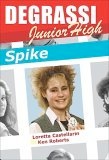 The excerpt below is from the new edition of Degrassi Junior High: Spike by Loretta Castellarin and Ken Roberts. With the renewed interest in all things Degrassi, thanks to DVD collections, Degrassi: The Next Generations, and fan sites, the Degrassi Junior High books are a great way to relive (or discover) the hopes and heartaches of this groundbreaking television series.
Chapter One

Every night I have the same dream. I dream about the party. I didn't mean for it to happen. It just did.

Lucy's parties were always great. Her parents were never around. We could do whatever we wanted -- drink their booze, make out, anything. Mostly we just drank and danced and talked. Sometimes a couple that had been going together would disappear into a bedroom, but nothing serious ever happened. At fourteen, most of my friends were still a little embarrassed to kiss in front of other people.

I went to the party with Shane. I really, really liked him. He's not the best-looking boy in school, but he is tall and blond and good-looking in his own goofy way.

Some people probably thought we looked like an odd couple when we first started going out. Shane looks kind of well-scrubbed. He wears striped shirts with the sleeves rolled up to the elbow. He even has a cowlick. His dad is a minister, so I think Shane's supposed to be a walking advertisement for virtue.

My real name is Christine. Everyone calls me Spike because of my hair. It's not punky. I like to think of it as chic. Distinctive. My mother does my hair. It was even her idea, although I love it. She has her own beauty shop, so I guess I'm kind of a walking advertisement, too.

The first time I noticed Shane was at a soccer game. He's a good player, but not great. He shows off too much, doesn't pass the ball. I like sports, so I know. I went to the soccer game with Erica because she liked some player who was Shane's friend. After the game, Erica ran over to talk with the guy she liked, and Shane and I were sort of thrown together. Some people might say it was fate. Dumb luck, I'd say. Anyway, Erica and the guy she was interested in didn't click, but Shane and I started going out.

"Going out" doesn't mean we went on a date every night. It means we had lunch together at school and sometimes we walked home holding hands. We did go to a couple of movies, but always with a group. Before Lucy's party, we'd kissed a total of eight times, although a couple lasted so long they should probably count twice. I liked Shane. Liked him a lot.

I can still remember every second of Lucy's party. I'd looked forward to it all week. Shane and I went separately. He got there first. I saw him sitting on the couch as soon as I walked into the living room. He grinned and patted the empty seat next to him. I went over and cuddled up close. Shane slipped his arm around me and gave me a squeeze. Neither one of us said a word, but we both felt terrific.

I was really enjoying myself until Joey and Wheels saw us. You would have thought they were still in grade school, not junior high, the way they acted.

"Hey, Shane, my man," Joey called as he came over to us.

Wheels sat down and started walking his fingers up my arm.

"Go away," I told him.

"What's the matter?" Joey said, squeezing onto the couch between Shane and me. "Can't we all share?"

Joey began to stroke my arm. I think he'd had a beer or something. He and Wheels were really beginning to bother me and Shane could tell.

"Let's get out of here," Shane said, and we both hopped off the couch. Joey and Wheels laughed, like it was funny that we were mad. Shane was holding my hand. He led me down the hall to an empty bedroom. It must have been Lucy's parents' room. The bed was wide and neatly made. A lamp on one of the bedside tables was on, and one of her father's suit coats was hanging on the closet door. Shane hesitated for a moment, and I was so touched that he was scared, too, that I led him inside and gently closed the door behind us. Shane looked me right in the eyes and then he locked the door. We both turned and looked at the bed. He sat on the edge, and I sat down beside him. We kissed. We could still hear music and laughing through the walls. I think it made me feel secure, knowing that even though we were alone, people were close.

It was a long and wonderful kiss. Halfway through we both lay down on the bed, our legs still dangling over the edge. We wiggled up onto the bed and kissed again. It felt great. My head was spinning.

After a while Shane wanted me to take off my blouse. I turned out the lamp and slipped it over my head. I don't know why I did it, but I did feel safe and happy. I was also a bit embarrassed, lying there half-naked. But it was dark, and Shane hadn't said or done anything to make me feel uncomfortable.

It was exciting in a way. Daring. I felt kind of funny, like you do when you're sitting on a roller-coaster, waiting for it to start. Sweaty and queasy, scared and happy, all at the same time. But roller-coasters are safe. They look dangerous, but they're not, really. Even though I felt the same in bed with Shane, it turned out to be completely different.

Shane pushed my bra up and squeezed one of my breasts. It didn't bother me, but I felt ridiculous. My bra was tangled up around my neck, practically choking me. It didn't make me feel romantic, so I pulled my bra back down. Then I kissed Shane so he'd know I wasn't angry.

He didn't seem to mind. He just laid his head against my bra and rubbed one hand across my stomach. In a way, that made me even more excited than when he played with my bare breasts. Besides, I was glad he wasn't mad at me. I knew what we were doing was dangerous, but it was pretty hard to see how anything bad could come from feeling so good and so close to somebody.

Shane's hand moved from my stomach to one of my legs. He ran the tips of his fingers along my leg, higher and higher. I didn't stop him. He scrunched up my skirt and then, before I knew what was happening, he slipped one hand inside my underpants. I gasped and tried to move his hand, but he didn't stop.

I thought that when I put my bra back down, he'd understood that nothing else would happen. I knew when I went to the party I was ready to do something more than kiss, but I wanted anything we did to be what we both wanted.

Sometimes, in old movies, the screen goes all fuzzy when people start to make love. Birds chirp and flowers bloom, and even though nothing happens on screen, there's a mood, a feeling.

I wanted to find that feeling, and I did, for a while. When we were just hugging and kissing, everything was great. There was passion. There was romance. And then we couldn't stop.

I wish Erica had knocked on the door just a little earlier. But she didn't. Just as she knocked, Shane thrust himself inside me. I stifled a cry.

"Spike?" called Erica. "Heather and I are leaving. You gonna come?" I heard her turn the doorknob. Shane pulled out of me and scrambled into his pants. I pulled on my underpants and slid my blouse over my head.

"Hey, what's the big idea, locking the door?" I could tell Erica was trying to listen now. "Spike? Come on, guys. What're you doing in there?"

"Nothing," I yelled. "Just … uh, talking."

Shane turned on the lamp and together we straightened out the bedspread.

"Yeah, well, it doesn't sound like there's much talking to me," Erica said, rattling the door hard.

"We were whispering, okay?" Shane said with a giggle in his voice.

"Well, open up." Erica rattled the door again.

I gave Shane a quick kiss and ran to open the door. Erica looked at us both suspiciously and then shook her finger, like a parent. We all laughed together.

So, Shane and I had sex. If Erica hadn't knocked on the door, the actual sex part probably would have lasted longer. He was only inside me for about five seconds. It didn't even feel good. It hurt.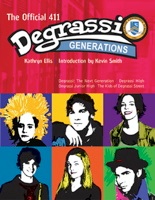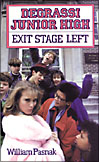 Exit  Stage Left
How could one simple school play turn Degrassi Junior High upside down and inside out?

Stephanie Kaye, president of the student body, is sure she is going to be the  star. Joey Jeremiah, class clown, thinks that if he gets a part in the play,  Stephanie will finally notice him. LD has more important things on her mind  than the play. No one is prepared for what happens next...and Degrassi Junior  High will never be the same again.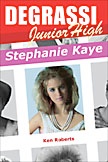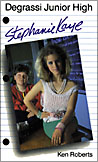 10 Stephanie Kaye
Her last year in Junior High and  Stephanie is going to make it a big one. With her new image—glitzy  rhinestones, sexy spandex and lots of lip gloss—Stephanie just knows success will be hers.

And at first, she's right. After all, she's president of the student  council, and has a date with Wheels—she must be doing something right. But  when the date doesn't work out and students object to her "presidential  style," Stephanie's life begins a downward spiral. Will Stephanie stop  before she hits bottom?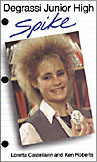 11  Spike
Spike—14 years old, a  grade-eight student, and pregnant. Like lots of teenagers, she and Shane don't  really think that when they slip into the bedroom at a friend's house they  could come out pregnant—but they do.

In this book Spike tells what it's like to be in junior high and having a  baby. So many decisions, so many questions—not to mention dealing with  Shane, her mum, and her friends. It's not easy, but Spike is no quitter. She faces her problems with honesty and a strong will. And finally, Shane does  too.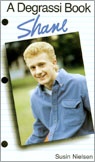 12  Shane
Shane is a loner at Degrassi. At  home he and his parents don't get along too well, especially since he started  grade eight. Life gets better when Shane starts seeing Spike, and he becomes  more popular at school.

But the unthinkable happens—Spike gets pregnant. One little mistake, and it  ruins his life. School is a drag, home is a drag, and Spike won't talk to him  anymore. Then Shane goes away to camp for the summer and, surprisingly, it's  great. But his new sense of independence backfires: before he knows it, he's  in trouble—disaster strikes again.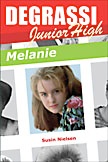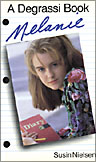 13  Melanie
Melanie Brody is takes grade seven  very seriously. She's read about junior high in all the teen magazines, and  she's ready for all the romace and excitement Degrassi can offer.

Things don't turn out to be quite so glamorous as Melanie expects: it's hard  to feel popular when you're scrawny and your hair won't go right, when it  seems like everyone else has nicer clothes and the older students think you're  a dumb kid. Life just isn't turning out like a romance novel at all.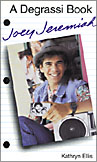 14  Joey Jeremiah
Joey Jeremiah wants to be a rock  star—so much so that he couldn't care less about school. He's got his band,  the Zit Remedy, and his buddies to hang out with, and everything seems great.

So when Joey fails grade eight, he's in shock. Now everyone will think he's  stupid. Even bandmates Wheels and Snake can't understand how he feels. But  when Joey sees an ad for a Battle of the Bands, he gets an idea: he'll show  he's not so dumb when the Zit Remedy wins and he's on the road to rock  stardom!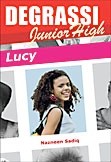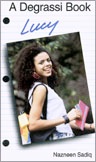 15  Lucy
Lucy knows she's a bit on the wild  side—she likes to take risks and shock her friends—but that's what being a teenager is all about. Anyway, Lucy also knows that everyone at Degrassi  thinks she's pretty cool.

But being cool all the time has its ups and downs. Her best friend L.D. has  been acting kind of weird lately, and Lucy's parents—well, they're never  home any more. They're so wrapped up in their work that there's no time left  for her. Lucy just wants a bit of excitement. So with the help of L.D. she  puts together the plan of her life—Lucy Fernandez is going to take a trip!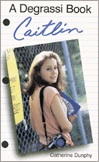 16  Caitlin
Caitlin knows there's a lot going  on with the world she doesn't like—things like nuclear waste, and the hole  in the ozone layer. Why doesn't anyone else seem to care?

A whole new world opens up when she meets Robert, with his ponytail and  intense blue eyes. At first Caitlin isn't sure if she's getting involved for  the issues or for Robert. But she knows one thing—she's ready to take a  stand on something that matters. When the chance arises, she surprises herself  with how far she'll go to make the world a better place.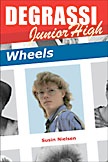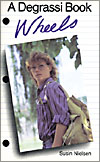 17  Wheels
Everyone likes Wheels at  Degrassi—he plays in a rock band with his buddies Joey and Snake and thinks  about being a musician full-time, like his birth father.

But Wheels' life slams to a halt when his parents are killed in a car  accident. He fights with his best friend, hangs around downtown with rough  street kids, and gets into serious trouble with the law. Still his friends  refuse to desert him, and Wheels learns he can count on the people around him  when he really needs them.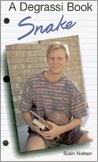 18  Snake
Snake thought he'd be king of the  castle in grade nine, but it didn't turn out that way.

He made the basketball team, but the team captain is out to get him booted  off. The prettiest girl at Degrassi thinks he's a geek, his marks are falling  and his brother has just announced that he's gay. Snake wishes for a magic  solution, but finally he has to sort the mess out for himself.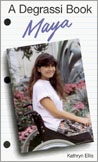 19  Maya
A job and a boyfriend. That's what  Maya's after this summer. Work isn't easy to find when you're in a wheelchair,  but Maya has determination and that's worth a lot.

She finds a job at Slurps—a local Degrassi hangout. And she goes out on her  first real date ever—with Kirk, one of the waiters. But nothing is ever  simple. The job turns out to be more than Maya bargained for, and Kirk has a  mysterious side that he doesn't want to share.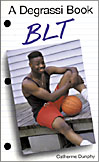 20  BLT
Bryant Lester Thomas, better known  as BLT, is having a great summer: he's playing basketball with a team that's going for the city finals, and he really likes the sister of one of his  teammates.

There is one little problem, though: BLT doesn't have the fancy clothes and  expensive cars that his new buddies do, and, without a job, he just can't keep  up with them. He can't even afford to go out on a date. BLT has to learn some  hard lessons...both on and off the court.